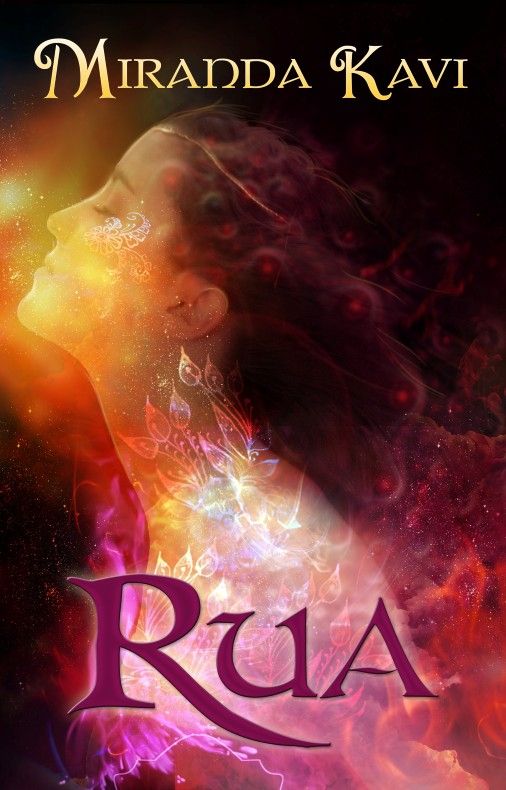 Title: Rua
Author: Miranda Kavi
Acquired: From author, for honest review.
Find "Rua":
Amazon

A girl with an unknown destiny.

A boy from a hidden world.

When Celeste starts at a new school in a small, Kansas town, she hears whispering voices, has vivid nightmares, and swarms of blackbirds follow her every move. She is oddly drawn to aloof Rylan, the other new student who has his own secrets.

The exact moment she turns seventeen, she wakes to a bedroom full of strange creatures, purple light emanating from her hands, and Rylan breaking in through her bedroom window.

He knows what she is . . .
~Review~

So, the synopsis that I read before reading this story was pretty vague and didn't give me a very clear idea of where this story was going to go. Because of that, I was a little bit concerned with what to expect. But, I REALLY shouldn't have been worried in the least.

First of all, I don't like to do spoilers and Ms. Kavi has obviously wanted to keep the main plotline a little bit mysterious so I'll try to keep my review as such.

There was an immediate understanding in my brain, as soon as I started reading Rua that this book was going to suck me in and keep my attention. The three stand-out characters in this book; Celeste, Rylan, and Tink are all pretty amazing in different ways and, therefore, were enough to keep me reading all on their own.

Let's start with Tink.

Tink is the first friend that Celeste makes at her new school. He's friendly, handsome, funny, charismatic, and gay. Right off the bat the relationship between Celeste and Tink is hilarious and endearing. When Celeste needs a friend the most, Tink is there for her no matter what. He is probably one of my favorite "best-friend-of-the-main-character" characters.

As for Rylan. Well, I can safely say that within the first third, or so, of the book I was kind of imagining ways to torture handsome Rylan. As far as main love-interests go, Rylan was failing pretty badly. And then we see a whole new Rylan once Celeste starts to have...well, issues--for lack of a better word. And, I'll say that I do, in fact, learn to love Rylan by the end of the story. Him AND his mysterious, tortuous ways.

Celeste is spunky, kind, sensitive, and COMPLETELY out of her element. She basically gets thrown into a new school, falls for a boy that doesn't exactly deserve her affections (at first), and then starts to experience some extremely strange occurances in her life.

There are a couple instances where I felt like I didn't know who to trust in Rua. I loved that because it made the story all the more complex. I'm so glad I read this story! I'm so glad that Ms. Kavi picked this particular mythology to focus on (No, I'm NOT telling). And I absolutely cannot wait for the second book in this series!

My Rating:

~Excerpt~

"Rylan?" she whispered into the dark. No answer. She sat down at her desk chair to wait for his return.
"Don't sit. We need to go." He was back, holding the window open for her. Her bedroom door was closed.
"Quit showing off," she said. He went out the window first then helped her down. "Where did you go, anyways?" she asked.
"Just made sure your parents were in a deep sleep, that's all." He took her hand then led her through the forest again. It was much easier to navigate with shoes and socks. She followed him, expecting him to lead her to his parked car. But instead, he stopped.
Keeping her left hand firmly grasped in his right, he pulled her close, then rotated her body until they were face to face. He took her other hand with his free hand. Their faces were only inches apart, and she was painfully aware of how close his body was to hers. She looked up into his face.
He said nothing, but watched her with golden-flecked eyes. In the dark, they had some subtle luminescence.
He said nothing, and she stayed still.
Finally, he spoke, in the lowest voice she'd heard him use. "Please be careful. We can't trust her."
"Okay," she said.
"I want to try something." He dropped her hands, but replaced them with something better. He wrapped his arms around her waist then pulled her against him. Their bodies pressed together, spreading warmth to new places in the cold night.
Her breath caught in her throat.
He leaned closer. "Do you trust me?"
"Yes."
"Close your eyes." His breath moved the baby hairs framing her face.
She did, expecting his lips to press on hers in the dark. Instead, her body was ripped violently into motion, like taking the first drop-off on a roller coaster.



~About the Author~

Miranda Kavi is a YA and Paranormal/Urban Fantasy author. She has worked as an attorney, an executive recruiter, and an assistant in a biological anthropology lab. She loves scary movies, museums, and is hopelessly addicted to chocolate. She lives in the Houston area with her husband and daughter.

Website / Facebook / Twitter / Goodreads