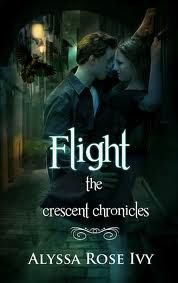 Title: Flight (The Crescent Chronicles #1)
Author: Alyssa Rose Ivy
Pub. Date: Aug. 16, 2012
Acquired: From author, for honest review.
Find "Flight":
Amazon / B&N / Smashwords

Sometimes you just have to take flight.

A summer in New Orleans is exactly what Allie needs before starting college. Accepting her dad's invitation to work at his hotel offers an escape from her ex-boyfriend and the chance to spend the summer with her best friend. Meeting a guy is the last thing on her mind—until she sees Levi.

Unable to resist the infuriating yet alluring Levi, Allie finds herself at the center of a supernatural society and forced to decide between following the path she has always trusted or saving a city that might just save her.

~Review~


The moment I read the synopsis for this book, I knew I'd love it! Which is why I agreed to read and review it. I am so glad I did!

Flight is a book that I would consider to be in the "New Adult" genre, as opposed to the "Young Adult" genre. This is mostly because of the age and maturity of the main character, Allie.

Allie is fresh out of high school and out of a relationship. She's visiting New Orleans to spend the summer working at her dad's newly purchased hotel. But, as soon as Allie and her best friend, Jess, arrive, mystery surrounds the group of people that Allie and Jess meet.

Alluring, handsome, and extrememly sure of himself, Levi is obvious interested in Allie...Right from the get-go. He makes himself perfectly clear. However, Allie has decided to put a boy-ban on her life. No relationships. So, of course, it takes a bit for any sort of relationship to really happen between these two.

I have to say, though, that there was no point in this story where I got bored. I feel like I was always finding out something new about the characters. And, what a group of characters!

After Allie decides to give Levi a chance, the story just takes off. I won't say anything else, because I really don't want to give anything away, but there were some SERIOUS plot-twists that had me reeling. Things that I NEVER saw coming. The secret that makes Levi different from regular people is pretty. Dang. Clever.

I loved all of the characters--even the crazy, evil ones because they really added to the story. I loved the plot and where Ms. Ivy took me throughout the story. I honestly never saw most of what happend, coming.



My Rating:

~About the Author~

Alyssa Rose Ivy lives in North Carolina with her husband and two young children. Although raised in the New York area, she fell in love with the South after moving to New Orleans for college. After years as a perpetual student, she turned back to her creative side and decided to write.




Website / Facebook / Twitter / Goodreads