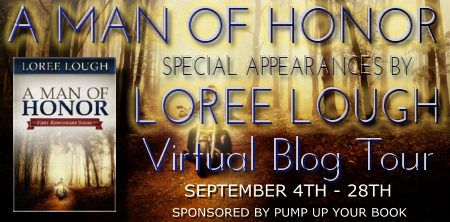 Title: A Man of Honor
Author: Loree Lough
Find "A Man of Honor":
Amazon / B&N / Abingdon Press
ChristianBook.com


Dusty and Grace find love together, but will it be enough to pull them through tragedy?

On a steamy spring morning, Dusty Parker—part-time pastor, part-time search and rescue team leader, and full-time administrator at a school for troubled boys—joins the search for a missing teen girl. He partners with volunteer and inner city school teacher Grace Sinclair, and what they find bonds them in ways neither could have expected.

As they begin to build a life together, a visitor from the past causes Dusty and Grace to further open their hearts and home.
But a dark and dangerous threat looms over their seemingly perfect world, and in one terrifying night…

…everything changes.
~Book Trailer~
~Giveaway~
a Rafflecopter giveaway
~About the Author~
With nearly four million 4- and 5-star books in circulation, reviewers and readers alike have called best-selling author Loree Lough "a gifted storyteller whose novels touch hearts and change lives." The 3rd novel in her popular First Responders series, A Man of Honor (Loree's 88th published book), reaches bookstore shelves this September. Loree and her husband live in the Baltimore suburbs and love spending time at their tiny cabin in the Allegheny Mountains, where she loves to show off her "i.d the critter tracks" skills. She loves to hear from readers (who can email her via http://www.loreelough.com) and answers every letter, personally. Website / Facebook / Twitter
Check Out the Virtual Tour