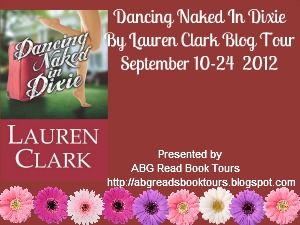 Title: Dancing Naked in Dixie
Author: Lauren Clark
Pub. Date: May 21, 2012
Find "Dancing Naked in Dixie":
Amazon / B&N / Indie Bound / Smashwords
Fish Pond / The Book Depository

Travel writer Julia Sullivan lives life in fast-forward. She jet sets to Europe and the Caribbean with barely a moment to blink or sleep. But too many mishaps and missed deadlines have Julia on the verge of being fired.

With a stern warning, and unemployment looming, she's offered one last chance to rescue her career. Julia embarks on an unlikely journey to the 'Heart of Dixie'—Eufaula, Alabama—home to magnificent mansions, sweet tea, and the annual Pilgrimage.

Julia arrives, soon charmed by the lovely city and her handsome host, but her stay is marred by a shocking discovery. Can Julia's story save her career, Eufaula, and the annual Pilgrimage?

~Excerpt~
Ready or not.
I ease open the door and jump down what seems like five feet to the ground.
Slam-crack!
On instinct, I duck behind the door. What the—! Was that the windshield? I inch up to get a better look.
Slam-crunch!
A chunk of gravel hits the side window. Another rock zings by my head. Sheesh! So much for Southern hospitality. If this is how the locals roll out the red carpet, I'll find somewhere else—
Slam-crack!
The glass now bears a spidery star-design. The rental people will be thrilled. Did I remember to get the extra insurance?
I brace for another onslaught.
Nothing.
Nothing.
Then, I hear a high-pitched squeal.
"Noooo," a child's voice wails. "I don't want to go into the house! I want to stay here! You can't make me!"
Ever so slowly, I creep out from behind the door and inch my way to the back bumper of the Expedition.
Of course. So, she's not a random girl. Lovely. I'll bet we'll be seeing her every day.
But Mary Katherine shakes her head coyly, points a finger to her cell phone, and steps onto the opposite sidewalk. By the time I decide to wave back, she disappears around the corner.
Shug doesn't seem bothered in the least. He holds open the door to the diner.
Sweet salvation.
My knees weaken at the sight of steaming breakfast plates on every table. Raucous laughter, animated conversation, and the clang of pots and pans from the kitchen make it almost impossible to hear. Shug motions for me to follow him, but stops every few feet. He shakes hands, exchanges back slaps, and chuckles as we move through the crowd.
Curious stares follow us. Polite, inquisitive looks. A wrinkled forehead, pursed lips, a raised eyebrow. If I make eye contact, which I'm trying not to do, the person smiles brightly and chirps a greeting.
Great. I can imagine what they are dreaming up. Star magazine-type rumors, followed by a heinous paparazzi photo. I see it all too clearly. The headline will read: Who's that girl? Is Shug Jordan cheating on Mary-what's her name?
Oh well. There's always food. At least I'll die embarrassed and happy.


~Giveaway~
a Rafflecopter giveaway
~About the Author~
Lauren Clark writes contemporary novels set in the Deep South; stories sprinkled with sunshine, suspense, and secrets. She is the author of Stay Tuned, Dancing Naked in Dixie, and Center of Gravity (October 2012).

A former TV news anchor, Lauren adores flavored coffee, local book stores, and anywhere she can stick her toes in the sand. Her big loves are her family, paying it forward, and true-blue friends.

Website / Facebook / Twitter / Goodreads
Check out the rest of the Dancing Naked in Dixie blog tour!!