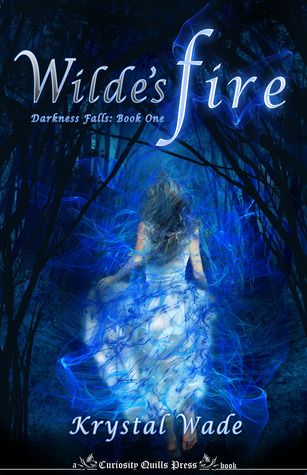 Title: Wilde's Fire (Darkness Falls #1)
Author: Krystal Wade
Publisher: Curiosity Quills Press
Pub. Date: May 13, 2012
Acquired: Netgalley
Find "Wilde's Fire":
Amazon / B&N / Smashwords
The Book Depository


"There is no pain in this death, only peace, knowing I am going to die with the one I love the most." - Katriona Wilde.
Katriona Wilde has never wondered what it would feel like to have everything she's ever known and loved ripped away, but she is about to find out. When she inadvertently leads her sister and best friend through a portal into a world she's dreamed of for six years, she finds herself faced with more than just the frightening creatures in front of her. Kate's forced to accept a new truth: her entire life has been a lie, and those closest to her have betrayed her. What's worse, she has no control over her new future, and it's full of magic and horrors from which nightmares are made. Will Kate discover and learn to control who she really is in time to save the ones she loves, or will all be lost?



I'm sitting here, just not entirely sure if I want to be writing this review or going and buying/devouring Wilde's Army. I'm trying to get myself unstuck from Encardia and the rest of Kat's amazing world!

So, instead of continuing on down that road, I'm going to tell you how absolutely enthralled I was with Wilde's Fire.

From the first page, I knew...I JUST KNEW, that this was going to be one of those books that I couldn't put down. I was instantly invested in all of the characters. And there were so many different elements to the story that held my interest that I didn't get bored at any point in the story.

Katriona enters this unknown world of Encardia and while completely ignorant of what is going on around her, and at the same time missing her family and (possibly) mourning a friend, she manages to keep it together, for the most part. And, I don't blame her one bit. Not with the very handsome distraction named "Arland".

Arland just so happens to be the man that's been in Kat's dreams for the past six years. She's dreamed of them being in love, fighting monsters, and dying. So, when she meets him there's an instant connection. But, instead of the connection being contrived and forced, I feel like the build-up is absolutely perfect. First, there's friendship and trust, and then there's love.

Of course, it's a forbidden love. *sigh*

With magic, monsters, darkness, romance, and a fantastic cliff-hanger, this book has everything that I could want.

My Rating:

~Book Trailer~
~About the Author~
Krystal Wade can be found in the sluglines outside Washington D.C. every morning, Monday through Friday. With coffee in hand, iPod plugged in, and strangers--who sometimes snore, smell, or have incredibly bad gas--sitting next to her, she zones out and thinks of fantastical worlds for you and me to read. How else can she cope with a fifty mile commute?

Good thing she has her husband and three kids to go home to. They keep her sane.

Webpage / Facebook / Goodreads / Twitter / YouTube