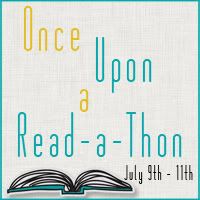 In case you missed the previous posts, the Once Upon a Read-a-Thon is hosted by Angela at Reading Angel, Candace at Candace's Book Blog, and Lori at Pure Imagination.

I DID IT!!!! I finished ONE WHOLE BOOK! ((Let the applause begin!))
I'm being sarcastic, by the way. I realize that most of the other participants have probably read WAY more than one book so far.
That's alright, though! Because now I have one whole day to finish Ta Ta for Now! and I'm actually already 10% through it. So...In the extremely rare case that I manage to finish this book tonight, I'm going to add one more book to my list. Okay? Okay! So, here's my updated list:

UnGuarded by Ashley Robertson
Ta Ta for Now! by Bethany Lopez
Wilde's Fire by Krystal Wade

Wish me luck!

For updates via Twitter, I'll be using #OUreadathon.