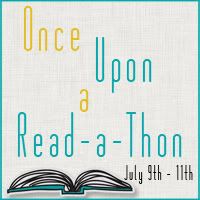 In case you missed the first post, the Once Upon a Read-a-Thon is hosted by Angela at Reading Angel, Candace at Candace's Book Blog, and Lori at Pure Imagination.

So...Yeah. I didn't get through much of UnGuarded today, unfortunately. With my kids it's one thing after another. BUT, I'm going to do what I can to finish it tonight (even if it means staying up REALLY late) and hopefully tomorrow I can start Ta Ta for Now!.

For updates via Twitter, I'll be using #OUreadathon.

And, for an answer to today's mini-challenge from IB Book Blogging:

Question 1:

What is your favorite cover that has been revealed this summer and why? Post a link or picture of the cover if you want.

Tiger's Destiny by Colleen Houck. I LOVE that series! And the cover is amazing!

Question 2:

Do you rely on the cover to help you choose whether you want to read a book or not?

Eh, sometimes. But, only really if it's a toss-up whether or not I wanted to read the book in the first place. If I already wanted to read it, a "bad" cover won't dissuade me.