Welcome to my stop on the blog tour for Demonically Tempted (Frostbite #2)! I hope you all enjoy! Check out the excerpt below! Let me know what you think!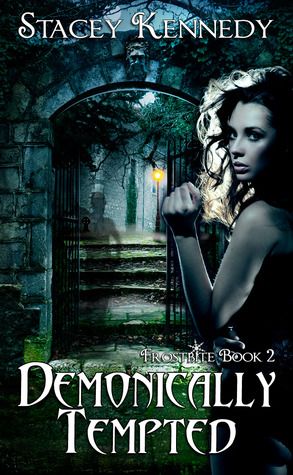 Title: Demonically Tempted (Frostbite #2)
Author: Stacey Kennedy
Pub. Date: April 13, 2012
Find "First Frost":
Frostbite Webpage


Tess Jennings, now a member of the Memphis Police Department, is on her first cold case. The suspected suicide of Lizbeth Knapp ten years ago isn't a theory her family accepts—they believe she was murdered.

But the case is only one of Tess's worries. Ghosts are talking, and word of her abilities rapidly spreads. A dark ghost is terrifying the spirits of Memphis, and she must force the entity to cross over.

Tess doesn't have to do this alone. Not only does she have her ghost-lover, Kipp McGowen, but the department has brought in a medium. Dane Wolfe might answer all her questions, but he also brings a world of trouble. Will Tess finally have all she's ever wanted, or will everything she's vowed to protect be ripped away?

~Excerpt~

Copyright © STACEY KENNEDY, 2012
Chapter One
The old farmhouse had seen better days. Not only could it use a coat of paint, but it also needed a dose of love. Dry, brown grass surrounded the home, and the only flowers topped four-foot high weeds.
I glanced next to me at Zach—a cop with the Memphis P.D.—and crinkled my nose. "Someone actually lives here?"
His blue eyes met mine and he ran a hand through his blond, stylish hair and shrugged. "Max said the victim's sister still resides in the home where the death happened."
As he lowered his arm, he cringed, and I winced at the memory. Heck, only weeks ago he'd been stabbed and shot in the shoulder.
The man who caused Zach's injury got it worse—by my very hand, no less—but I was glad Hannah Reid's murderer hadn't returned to haunt me.
I might have suffered some serious remorse. That is, if I didn't believe God wouldn't punish me because I killed a murderer. Brody would've done the same to me if I hadn't gotten to him first. I tried my best to stick with that theory. It saved me from the lingering guilt I might—and would never admit to—have for taking a life.
Sure, there was an internal investigation through the police department, and I had been questioned until my voice went scratchy. But in the end, the shooting had been declared self-defense, and I was perfectly happy with that. Or so I told myself every day until I finally believed it.
Besides, the cops that I now worked alongside had my back throughout the investigation, and nothing would change that. We'd grown close through the time spent during the Reid case, and even closer in the weeks that followed.
"I'm going to see if Lizbeth is out here somewhere," Kipp—a ghost, and my lover—said, dragging me from my thoughts.
Yes, our relationship was complicated and it's insanely sick that I'm in love with a ghost, but I wasn't about to fight my heart's desire.
"If you find her, then come tell us, immediately. The less time I have to spend in that house, the better." Scummy houses and me didn't mesh well. I like cleanliness and hate spiders.
"He's going off on his own then?" Zach asked.
As of late, Zach had caught on to our conversations better. Seeing that I was the only lucky one—or not so lucky as I viewed it—who could hear ghosts' communication was annoying, at best.
Maybe I gave more descriptions in my answers than I normally did, or maybe he'd gotten used to having to fill in the blanks. Whatever it was, I appreciated the ease of our conversations now. The back and forth got on my last nerve.
As Kipp strode away, I stared at his scrumptious ass filling his dark blue jeans. The man might be a ghost, but he was sex packaged into muscular goodness.
One of his eyes was chocolate brown, while the other was crystal blue, and he had untidy brown hair that no matter how messy only made him look more attractive. And he was all mine.
I blinked, pulling myself away from my ogling, and frowned at Zach. "Ready?"
His gaze danced with laughter, yet a smile never appeared. "For someone who accepted a job with the department, you would think you'd hold more excitement."
"Just because I can officially call myself part of the police department—which is absurd, by the way—doesn't mean I still don't have hesitations."
My gift took a while to adjust to but I knew when to see reason. Helping ghosts that had met a horrible fate wasn't a bad job. That is, as long as I didn't run into any more crazy-ass killers who wanted to make me a ghost, too.
Zach approached the house, and I trailed after him, not showing half the confidence he carried in his gait.
I climbed the old steps, slightly worried the wood would break under my weight, but seeing Zach went first and the man was all power, the wooden planks could support my slender frame.
He knocked on the door. And a moment later, it opened to a woman who matched the house. She appeared to be in her fifties, but the dark circles under her eyes and the hunch to her shoulders made her look well worn.
"Ms. Knapp?" Zach asked.
"Yes." Her voice dripped with despair. "Are you the detectives?"
Zach nodded. "Is it still all right if we come in?"
She widened the door, and moved aside. "Please call me Anna."
"Thank you, Anna." Zach entered the home. "We appreciate you taking the time to discuss Lizbeth with us."
I hesitantly followed and tried my damndest not to let my repulsion in the house show. Not an easy feat.
"Please, will you have a seat?" She waved out to a couch that I wouldn't sit on even if it had a layer of plastic over top of it.
I held back my desire to gag, and twirled my finger in my brown, shag-cut hair. "I'm okay here, thanks."
Zach grimaced at me before he took a seat and shed all emotion as he turned to Anna. "We're aware that this will be difficult for you to discuss, but we need you to remember anything you can from when Lizbeth died."
"I'm not sure I can tell you anything that…" She peeked up at the ceiling. I followed her gaze seeing dark brown stains, and restrained my shudder. "…Max, was that who I spoke with?"
"That's right. He's the sergeant." Zach smiled softly. "He told us the necessary information, but I've learned it's always best to hear it directly for myself."
In all actuality, I hadn't heard all the details except that I was officially on my first cold-case.
"Well," Anna paused, glancing down at her fingers as she fiddled them. "It started a year before Lizbeth's death. She began to act differently."
Zach pulled his pad of paper and pen from his pocket, and flipped the notebook open. "Can you explain that in more detail?"
I clasped my hands in front of me. Just because I was now part of team didn't mean I would start acting like a cop in any official capacity. Let's be serious now. I wasn't really a detective.
Anna continued, "She'd talk to me about an evil presence around her."
"Evil?" I gasped.
"I know how funny it sounds. At the time, it did to me, too. But looking back, Lizbeth just didn't seem like herself, and maybe I should've listened to her." Anna crossed her arms and shifted in her seat. "She used to be a very happy young woman. Full of life and spirit, but all of a sudden she seemed so dark."
I gave my head a shake, trying to make sense out of her nonsense. "Dark how?"
"Depressed." Anna exhaled. "She never came out of her room, and totally withdrew from life."
"She was suicidal, then?" Zack asked with a gentle tone.
"I suppose you'd draw that conclusion from what I'm telling you now, but the truth is I never took her to be the type." She gave a knowing look. "Like I said, she was well adjusted and quite happy."
"But you just said she was depressed," I countered.
"Yes, I did, but still, Lizbeth was a fighter. She used to tell me that this evil presence was overtaking her soul, and she tried so hard to fight against it."
Zach made a face. I made one of my own. We were speaking English, yet gibberish would have made more sense.
Seeing that we were getting nowhere, and I suspected Anna had lost her mind a long time ago, I moved along. "Did her condition get worse?"
"It got so bad, my parents had no idea what to do. You have to remember it was a different time. The medications for depression that exist today didn't back then." Tears welled in her eyes, but they cleared just as quick. "My parents took her to a doctor, even admitted her into a hospital, but my mother couldn't manage to leave her there. She thought love would bring Lizbeth out of her trouble."
"Clearly, it didn't."
"That's right, it only got worse. Lizbeth started to hurt herself."
Zach's eyebrows rose. "You mean, caused injuries to herself?"
"No one ever knew—and Lizbeth never said—how she did it. But she had lacerations all over her back."
Zach scribbled notes, and then peered at Anna. "Did Lizbeth ever say anything to you about the wounds?"
Those tears now weren't so easily pushed away. "She was adamant she had never caused them."
One conclusion came to my mind. "No one believed her, did they?"
"Who else would have done it?" Anna retorted. "At that point, Lizbeth hadn't left the house in over six months."
Zach stared at Anna, his gaze probing. I inhaled deeply, understanding the frustration. The dust in the room settled into my nostrils. I rubbed at the tickling in my nose, and considered what she had told us.
It seemed to me Lizbeth had clearly been suicidal. I'd watched television shows were people cut themselves. Maybe this was all that was going on here. Case closed.
Zach scribbled a few more lines of notes then scrutinized Anna. "How did Lizbeth act in the days before she died?"
"Strange." Anna wiped the tears from her face. "She always had this dark cloud over her, but in the week before her death it became much worse. She'd stopped eating and we had to force liquids down her throat." Her chin quivered, more tears spilling. "But it was in her eyes where I saw her demise."
"What did you see?" I whispered, not totally sure I wanted to hear her answer.
"She was already dead."
Zach coughed. "Pardon?"
"Lizbeth was no longer in her body." Anna shook her head, sending more tears rushing down her cheeks. "I know that sounds crazy, but that's the only way I can describe it. She had already left."
"Where did she go?" I urged.
"I have no idea. All I know is she was gone."
My assumptions that Anna was off her rocker deepened. One question would solidify if I believed she held any sanity at all. "Why do you stay here…in this house?"
Anna's eyes swam in sadness. "I'm afraid that Lizbeth is still here, and if I leave she'll be all alone. I don't have the money to fix the house. Since her death—times have been hard."
Wasn't I a shit? Her answer was clear and concise, and, well…I could understand her reasons. If she were insane, I assumed her purpose for staying here would be, too.
Zach closed his notebook, and placed it into the pocket of his black slacks. "Would you take us outside to the water and discuss what happened the night she died?"
"Of course." Anna stood from the couch and approached the front door.
Zach gestured toward the hall. I took the hint. Since Kipp hadn't returned yet, it confirmed he hadn't found Lizbeth's ghost. Before we left I needed to check out the house to see if she remained. "Do you mind if I use your washroom?"
"Not at all." Anna dabbed her tears with a tissue, and then raised her chin. "It's down the hall—third door on the right."
"Thank you." I headed toward the hallway while Zach continued to ask Anna another question as they exited the front door.
The hallway was in a similar condition to the rest of the house, completely in shambles. The flowered wallpaper was peeling off the walls and the color of it resembled something not worth discussing. I wrinkled my nose, catching a whiff of mold, and continued walking.
To my left was an open door to a bedroom. I peeked in and clothes were thrown over the light blue bedspread. Furniture was scarce, but the room seemed lived in. It did appear slightly more taken care of than the rest of the home, which drew the conclusion that this had to be Anna's bedroom.
I scanned the room and couldn't see Lizbeth's ghost, but that didn't mean she wasn't there. She could be hiding. "Lizbeth," I whispered.
No one responded.
Leaving the room, I carried on down the hall to another bedroom on the right, but as I called out her name again, I received the same response.
The bathroom was to my left and another room lay on the right. The door was closed and I did my best to keep quiet as I opened it. I couldn't hear Zach or Anna in the house anymore, but I didn't want to chance it. I pushed the door open and it creaked.
I peered in and my heart skipped a beat. "Creepy."
The room wasn't in the same condition as the house. It looked brand new, even the paint on the walls appeared fresh, and Lizbeth's name was written in wooden letters above the dresser.
Of all the rooms to keep nice, Anna chose this one. I couldn't decide if that was sweet or freaky.
"Lizbeth," I whispered again only to be met with silence. I'd never had a ghost hide from me before, usually they were so intrigued by my ability they always approached.
I closed the door, headed for the bathroom, and went straight for the sink. At least the room was clean. Yes, in horrible condition, but the yellow bathtub had been scrubbed recently.
At the sink, I turned on the faucet to wash the icky feeling off my hands. I wanted to get home and have a shower. Being in this house for even a few minutes had left my skin feeling filthy and downright gross.
I waited a moment to let the water warm since the pipes thumped indicating trouble stirred, and just as I placed my hands under the water, a voice startled me. "Why are you in my house?"
I looked over my shoulder and spotted a middle-aged ghost dressed in a double-breasted black coat, white dress shirt, and fitted tanned breeches.
"I beg your pardon," I snapped. "But I don't deserve to be glared at—or spoken to in that nasty tone—when I've done nothing wrong."
"You can hear me?" His eyes widened. "You can see me?"
"Yes I can." I returned the glower he not-so-kindly offered me. "Why are you so rude?"
"I-I-I…"
"Classic." I snorted. "The ghost is beside himself. Isn't it supposed to be the live person who is shocked when they see a ghost?"
"You're alive?"
Now he was being just downright mean. I shut off the faucet, and with the water dripping off my fingertips, I turned to face him. "Do I look dead to you?"
He gave me a once over with an expression that left something to be desired. "No, but why are you glowing?"
"Yes, well," I wiped my damp hands on my skinny jeans, "that's my ability."
He examined my gold hue—or so I'd been told that is how it appeared—and by his huge eyes this revelation stunned him. "And this ability is how you can see me?"
I wasn't in any mood to get into this with him. A change in topic was in order. "Have you seen a young girl around here?"
"No," he responded without haste.
I nibbled my lip, considering that. "Not ever, or not lately?"
"Never."
If Lizbeth died in misery, it made no sense that her ghost wasn't here. Ghosts always lingered and needed help to cross over. Someone who committed suicide wouldn't be a settled soul. And most of the ghosts I'd met returned to a place that had meant something to them. Considering Lizbeth was young when she died, I had assumed she'd come home. Where else would she have gone?
"How long have you been here?" I asked.
"I have no idea." He paused, thoughtful, then said, "I think it's been quite some time."
His response didn't surprise me. Ghosts never remembered much except what they needed to, to move on. Seeing that this ghost would lead me nowhere, I figured I might as well try and help one ghost today. "Do you want to cross over?"
He scowled. "Are you threatening me?"
"Good God. You're foul. I'm asking to be nice. I can help you, if you'd like."
"This is my house. I don't want to leave. I want you to."
I grunted. "Trust me, I want the same damn thing."
He gestured toward the door in what might have seemed like a bow of respect, if his tight features hadn't thoroughly flipped me off. "Best you see yourself out."
I had just about enough of his bad attitude. I pointed at him. "You better not go scaring Anna. She's been through enough."
"I don't scare her." He scoffed. "She's a lovely woman and I don't mind her sharing the home with me."
"I'm glad to hear it, but if I find out you're frightening her, I will Ghostbuster your ass. Got it, jacko?" I flicked my hair over my shoulder, not waiting for him to respond because frankly, I didn't give a shit.
I exited the bathroom, heard him grumbling something after me. I really couldn't blame him, though. If I'd been dead since the eighteen hundreds, from the looks of his clothing, I'd be pissy too.
Once on the front porch, I spotted Zach and Anna. They talked down by a creek that was completely overgrown with weeds, rocks lining the shore.
On my approach, Zach glimpsed at me. I shook my head to indicate I hadn't found Lizbeth in the house.
He visibly sighed, turning to Anna. "Now that Tess has arrived, would you please tell us what happened?"
I took a moment to scan the area, and listened hard to see if I could hear anything, but only the sound of rushing water and chirping birds filled my ears.
The air around the home smelled so fresh, and thrived with nature, it was a wonderful contrast to the dust and mold inside the house.
Anna drew in a long, deep breath. "It was a spooky evening that night. The fog settled above the water and the full moon provided a lot of light." Her eyes glazed over, lost in memory. "I heard Lizbeth leave the house, so I went over to my bedroom window."
I glanced at the house. One lone window faced the creek.
"I saw Lizbeth walking out to the water. She wore just her white nighty, and she was so frail." Anna rubbed her arms. "She was all skin and bones."
"She came out here alone?" I asked.
Anna nodded. "I didn't see anyone with her, at the time. She stood by the water's edge and was so pretty."
I had a hard time imagining anyone as pretty in the way Anna had described. But I wasn't about to bring up that point and merely listened as she went on.
"Lizbeth looked over her shoulder, and I'm still not sure how she knew I was watching her, but she smiled one of the coldest smiles I'd ever seen." Anna hugged herself. "I'm sure that smile will haunt me forever."
I gulped, a sudden nervousness wrapped around me and icy fingertips ran up my spine.
"What did she do after that?" Zach asked.
Anna inhaled sharply, clearly pulling herself away from the horrifying memory. "She turned toward the water, walked in, and killed herself."
Had I heard her right? "Are you saying she drowned herself?"
"I know that's hard to believe, but the second I saw her walk into the creek, she submerged herself into the water. That's when I ran out after her."
"What happened when you reached her?"
"She was floating, head first, and so I pulled her out." A tear slid along her cheek, and she wiped it away. "I tried to do CPR, but it didn't matter, she was already gone."
Silence drifted around us. I welcomed it. This story needed some time to process, and even after a minute or so, I still came up empty.
Anna gazed out at the water, as she cried. I couldn't imagine what it'd be like to be here, staring at this water, and remembering what happened. How did she continue to live in that house?
A nudge on my arm had me glancing over at Zach. He mouthed the words, "Is she here?"
I shook my head.
His brow puckered.
Lizbeth's lack of appearance seemed unusual even to me, but I hoped Kipp had better luck.
Zach cleared his throat breaking the silence. "After you pulled Lizbeth out of the water, what happened?"
Anna wiped her damp cheeks. "My mother and father came down and chaos erupted. They yelled, wanting to know what happened to her. When I told them, it was no surprise they didn't believe me."
She brought up a good point. "Where are you parents now?"
"Both, long dead."
Insert foot into mouth! "I'm sorry."
Anna sighed. "It's for the best. Lizbeth's death hit both of them very hard. My mother was never the same and my father became an alcoholic."
Saddest thing I'd ever heard.
"I can't find her outside."
I glanced over my shoulder and Kipp approached, lips pressed into a thin line. Seeing that I couldn't answer him with Anna here, I simply gave a short nod to show I understood his defeat.
"At what point did you see Hector?" Zach asked.
I gasped, unable to hide my shock. "Someone else saw her in the water?"
Zach nodded. "He'd been the main suspect in her death but—"
"My statement ruled him out," Anna interjected. "He probably would've been found guilty of her murder since he'd been the only other person present at the time of her death. But I said it then, and I'll say it now, he didn't kill her. I saw Lizbeth walk into the water and drown herself. I couldn't make up what I saw."
"Ask her how she can be so sure," Kipp said to me.
I shook my head, which I tried to hide by shifting my stance. There was no way I would argue with Anna. Kipp hadn't heard the rest of the conversation and I believed every word she said.
Instead, I pressed on. "Did you know he was there when you first came out of the house?"
"No," Anna replied. "He showed up out of nowhere. I hadn't seen him near the house at all and his arrival startled me. But I'll tell you one thing, his eyes were exactly like Lizbeth's."
My heart did that full skip-a-beat thing, indicating whatever she meant by that, scared me shitless. "They were?"
"When Lizbeth smiled at me, Hector did the exact same thing when he approached. To say it was creepy is really putting it mildly, but it was as if I stared at Lizbeth again—or what Lizbeth had turned into."
The side of my temple hurt. I zeroed in on Zach. "So after they questioned Hector, they released him?"
"That's right. But he's now serving time for an unrelated crime he committed a month after Lizbeth's death."
I gave Zach and Kipp a knowing look, and they returned it. As much as Anna was sure of what she saw, I suspected she was wrong. A person in a state of shock might not be able to think straight. I surmised that's exactly what happened.
"I know what y'all are thinking, but I know what I saw," Anna said, adamantly. "Lizbeth walked into the water and killed herself. Trust me, I'll never be able to forget it." Sadness gone. Determination risen. "No matter how much everyone wanted me to retract my statement and pin it on Hector, I wouldn't send an innocent man to jail for something he didn't do."
Innocent, my ass!
Zach inclined his head, as if he agreed with her, but I knew better. "Is there anything else you can tell us, Anna, that could help us?"
"I'm sorry. That's all I know."
"Thank you for talking to us." I smiled, reached out for her hand and squeezed it. "We'll do what we can to find out what happened to her."
Anna returned the smile, but on her, it was despaired. "I appreciate y'all working on this case again. I do hope that you'll discover what truly happened to Lizbeth. If it's all right, I'd like to go into the house now."
"Yes, of course. Thank you for your time." Zach shook Anna's hand, and then she started toward the house.
"This is by far the weirdest situation I've ever been in," I whispered to Kipp. "I've never experienced a missing ghost before."
"Quite unusual, to say the least," he grumbled. "Let's go to the station and fill Max in on what we've discovered." He sighed. "Or not discovered."
Without hesitation since I was more than happy to leave, I headed to the truck with the boys following. Anna climbed the steps of her porch, and I remembered there was something I needed to tell her. "Anna," I called.
She turned.
"You have a very grumpy old ghost in your house, but don't worry, he likes you."
She didn't appear nearly as surprised as I'd expected. Maybe she already suspected a ghost lived with her. Maybe not. But my job was done.
Now on to finding a missing ghost…


~About the Author~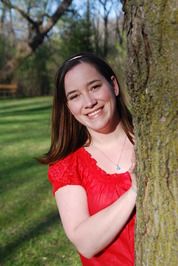 Stacey Kennedy's novels are lighthearted fantasy with heart-squeezing, thigh-clenching romance, and they even give you a good chuckle every now and again. But within the stories you'll also find fast-paced action, life-threatening moments and a big bad villain who needs to be destroyed. Her urban fantasy/paranormal and erotic romance series have hit Amazon Kindle and All Romance eBooks bestseller lists.

Stacey welcomes comments from readers. You can find her at www.staceykennedy.com