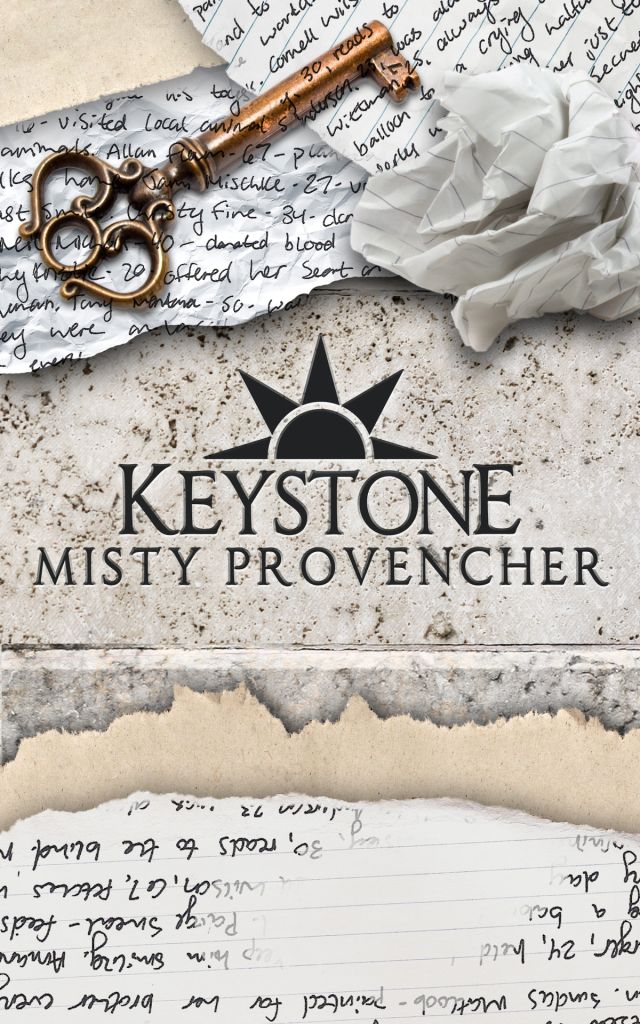 I am BEYOND thrilled to be a part of author, Misty Provencher's blog tour, featuring Keystone. Keystone is the follow-up to Ms. Provencher's, fantasic debut, Cornerstone. On this tour many different bloggers are bringing you the first chapter to Keystone. Here, you'll find pages 6-8.
Check out my review of Cornerstone here.


If you missed the first 5 pages, I've listed the links here:
~Kick-off of blog tour.
~Pages 1-2 at Candace's Book Blog and Buried in Books.
~Pages 3-5 at Globug & Hootie Need a Book and Kat Ellis writes....
~Find the links for the rest of chapter one, here.



Chapter 1 – KEYSTONE- Pages 6-8

WARNING: This is an excerpt from Keystone, the second book in the Cornerstone Series. This excerpt will definitely contain spoilers for the first book. Please feel welcome to try out the first five chapters of Cornerstone at: http://mistypro.blogspot.com/p/cornerstone-chapter-one.html

This excerpt is part of a Blog Hop. In order to read the entire first chapter, please visit all the awesome Blog Hop stops listed here: http://mistypro.blogspot.com/ to find the other pages!


Instead, she pats my arm – which I see, but don't feel – and says, "You're doing fine."

Then she disappears and I can't turn my head to see where she went. One more blink and my eyes are stuck wide open. I try to force the lids shut, but those stop working too. I feel my eyeballs drying out like a couple of hard boiled eggs on black top.

Screaming would be awesome, but my tongue's limp. I gurgle under the spit that wells behind my tonsils and the stone broils up in my palm again.

Mrs. Reese is back, hovering over my head.

"Okay, Nalena," she says cheerfully. "Here we go. Just exhale if it hurts and that will relieve it."

I exhale like a race horse, pulling in another breath and blowing it out hard again. Mrs. Reese crinkles up her brow.

"It's that bad?" she asks. My vocal cords suddenly let loose and I scream so loud that my lungs ripple. My eyelids finally slam shut.

A whirling blast of razor blades explodes up my arm. I want to pry the stone out of my palm, but I can't move and I can't let go. Mrs. Reese tells me to breathe, but it's impossible to do. The razors tumble through me. I feel their sharp edges shaving my nerves loose from my muscles. Tears drizzle down my cheeks. I scream again with my eyes clamped shut.

"She's coming, Nali," Mrs. Reese's voice trembles in between my screams. "Just hang on, honey. I swear, she's coming."

I can't even ask who. I can't make my tongue move. I'm dying in pieces.

One more desperate scream unravels out of my stomach like rope. It's not long enough to reach my throat, but it's enough. My field blows out all around me, knocking me out of my own skin. I stand beside my body, watching Mrs. Reese as she leans over it. Her own mouth is trembling as she tells me to hang on, to breathe, to wait...and then one of her tears slips off her cheek and lands on my lip. I watch the teardrop disappear into my mouth and as if someone tripped a switch on the entire universe, everything starts closing up inside a drawstring bag. Mrs. Reese and the room and my body on the bed...all of it disappears into the closing hole, leaving me in the dark. What's left is only whatever I am, without my body.

I look in every direction and finally spot a tiny speck of light. I go toward it. The pin point sparkles and widens and with every step closer to it, the pain I'd just felt seems less and less.

Nalena! My mother's stern voice comes from behind me. It's the same tone she used once when I'd crossed the street without looking both ways. Get back from there! Right now!

Mom? I'm suddenly pushed back inside my protective bubble, but not in my skin, so the darkness and pain are both gone. My mom is so close that I could touch her, or, at least, try to touch the weak image of her that shivers in front of me like bad TV reception. It doesn't matter. She's here.

It's not time for you to leave yet, she says. I disconnected you from your nervous system, so the new system can re-grow without so much pain. You'll be okay.

I don't care about being okay. I care that she's here with me.

Stay, I tell her. Or let me come with you.

It was time for me to go, but it's not time for you to come, she says with a sad smile. But I need to tell you what's coming next and I can't manifest here much longer, so listen carefully, alright?

A burst of panic jumps through me. No, let me come with you! Help me die! I don't want you to leave me again!

Listen to me. Her voice is sharp now. Your nerves are re-growing. When all of your senses kick back in, your nerves are going to be hypersensitive at first. Her instructions start scrambling. You will…The vision…If it gets to be... I want you...breathe in, hum out. She flickers.

What are you talking about? I ask. I try to imagine all the little threads of my nerves, lying down inside me like flattened wheat fields and then Lazarus-ing back up.

But she's gone and my field disappears.

I'm hurled back into my skin.

And I scream. And scream. And scream again.

I don't think I could stop even if my mom used her worst voice ever, now.


***

""You scared me there for a minute, but you made it," Mrs. Reese whispers, but it sounds like she's blasting every syllable through a megaphone. If she doesn't explode my eardrums, then it will be the light that gets me. Even with my eyes closed, I swear the sun must be three inches from my nose.