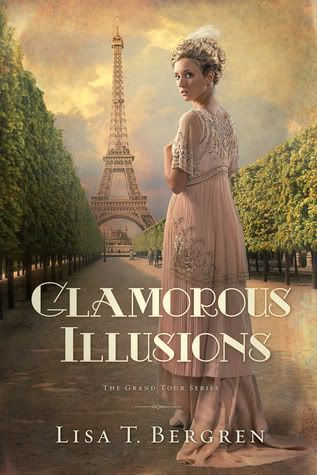 Title: Glamorous Illusions (Grand Tour Series)
Author: Lisa T. Bergren
Publisher: David C. Cook
Publication Date: June 1, 2012

Blurb from Goodreads:
When Cora Kensington learns she is the illegitimate daughter of a copper king, her life changes forever. Even as she explores Europe with her new family, she discovers that the most valuable journey is within. The first book in the Grand Tour series takes you from the farms of Montana through England and France on an adventure of forgiveness, spiritual awakening, and self-discovery.

My Review:
I am a huge Lisa Bergren fan. It's probably no surprise, then, that I absolutely LOVED this book! There was no time during reading this that I wanted to put it down. The whole idea of being a rich, copper king's illegitimate daughter without knowing it your whole life, that is SUCH an intriguing premise. And, Ms. Bergren, did NOT disappoint with the execution. I loved the characters in this book! Loved them! I think even the more "flawed" characters are redeeming, as the story goes on.

I really appreciate being able to relate to the main character in a book, and I completely did, with GLAMOROUS ILLUSIONS. I could FEEL the anxiety over Cora meeting family that she's never met before, right along with her. Family that, even she knows, has no reason to accept her. Cora is so human and real. Every time she reacted to a situation or something bad happened to her, I found myself thinking, "I could TOTALLY see why she would do/think/say that." Cora Diehl (Kensington) is a character that starts out strong and sure of what her future holds for her and then the unthinkable happens. Her life goes crazy, and she finds herself wondering and asking God what exactly is she going to do?! What does He have in store for her future? This whole book takes Cora on just a part of that journey.

There are moments when Cora is completely unsure of herself, and who she is, and desires most to be loved and accepted, but she also has such a profound moral compass that she's not afraid to do what's right. I could totally relate to Cora's struggles with faith and forgiveness, even though I've never had quite those same issues. Lisa T. Bergren wraps up a fantastic story with a very appropriate message. I can't think of anyone who couldn't take something away from this book.

I think it'll be a while before the next installment in this series comes out, so I guess I'll just have to keep myself occupied with TRIBUTARY when it comes out soon. :)

My Rating: 5/5 Stars

Pre-Order Glamorous Illusions on Amazon.
Pre-Order Glamorous Illusions on Barnes and Noble.
Check out Lisa T. Bergren's Website.