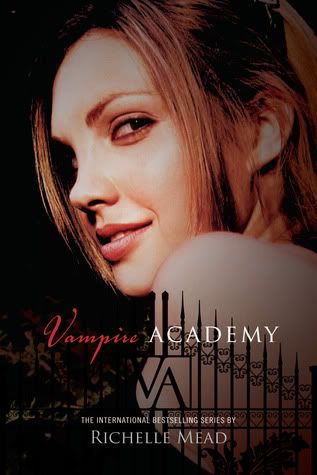 Favorite Friday is a weekly event that I started, so that I could give my review on books that I love, that were published at least a year ago.

Title: Vampire Academy
Author: Richelle Mead
Publisher: Razorbill
Pub. Date: August 16, 2007

Blurb from Goodreads:
St. Vladimir's Academy isn't just any boarding school—it's a hidden place where vampires are educated in the ways of magic and half-human teens train to protect them. Rose Hathaway is a Dhampir, a bodyguard for her best friend Lissa, a Moroi Vampire Princess. They've been on the run, but now they're being dragged back to St. Vladimir's—the very place where they're most in danger...

Rose and Lissa become enmeshed in forbidden romance, the Academy's ruthless social scene, and unspeakable nighttime rituals. But they must be careful lest the Strigoi—the world's fiercest and most dangerous vampires—make Lissa one of them forever.

My Review:
If I had the time, I'd write a review on every single book in this series. Because they are all THAT good. You read one and just can't help but want to rush to the store (or online on Amazon, in my case), and buy the next book.

A long-time vampire fan, I have sometimes high expectations of a good vampire story. I expect that if you're going to deviate from the traditional "Dracula" formula, that you PLEASE make yours a believable one. Make it something that can be built upon. Something that is well thought-out and seamless. Something that will continue to impress and surprise the readers with how well the author planned everything out. Well, Ms. Mead certainly gave that to me and more.

Because amidst a very well-planned plotline, there's also a very detailed vampire mythology here that Ms. Mead crafted brilliantly. From the "good vampire"/"bad vampire" (Moroi vs. Strigoi) and dhampir to the blurring the lines of who's good and who's really bad. It's an exciting adventure that will leave you feeling like you lost some friends when all is said and done.

But, specifically, I believe this first installment is a gem all on its own. We get the foundation for Rose and Lissa's amazing friendship, a budding relationship that is a bit taboo, between Rose and Dimitri--her teacher, and a look at what it means for Lissa to be a Princess among Moroi.

Just writing this review makes me want to go pick up the book and start reading it all over again. For probably the fifth time.

Vampire Academy on Amazon.
Vampire Academy on Barnes and Noble.
Richelle Mead's website.