From today on, I'm not going to give a rating to my "Favorite Friday" book choice. I think it's safe to assume that these are books that I recommend to all. So, with that said, here's my "Favorite Friday"!

Blurb from Goodreads:
Elizabeth Bennet is the perfect Austen heroine: intelligent, generous, sensible, incapable of jealousy or any other major sin. That makes her sound like an insufferable goody-goody, but the truth is she's a completely hip character, who if provoked is not above skewering her antagonist with a piece of her exceptionally sharp -- but always polite -- 18th century wit. The point is, you spend the whole book absolutely fixated on the critical question: will Elizabeth and Mr. Darcy hook up?

My Review:
PRIDE AND PREJUDICE was first published in 1813 to, mostly, great reviews. This is no surprise to me, as this book is one of those that I could probably pick up and read a few times a year. I could most definitely write my own book on how much I love this book and all of it's charming qualities. But, instead of doing that, I'll just keep it short.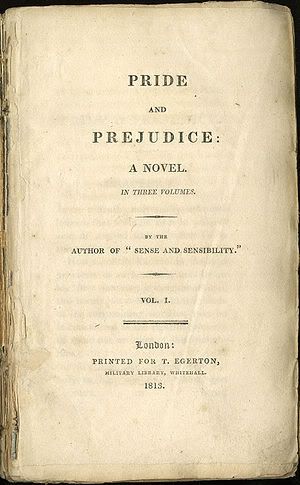 So, Elizabeth Bennet is probably one of the most foreward-thinking characters in any book that I've read from this time-period. Seriously, this girl is a rock star! I've never been so impressed with the in-your-face, but simultaneously, oh-so-subtle wit of a lady from this century. Even when you'd think she'd be going in a corner and crying her eyes out, she keeps her chin--and her attitude--up with finesse and a startling contemporary grasp on humor.

Then, there's Darcy. I'm pretty sure all modern-day "bad boys" are modeled after Mr. Darcy. No? Oh, well, then they should be. It's not even that he's necessarily BAD. But, he sure is a man with a tough outer-shell that just needs the right girl to break through. (Enter Elizabeth.)

The slow-building romance, that seems more akin to that of a train wreck at times, is beautifully done. You have two characters with so many opinions between the two of them, that you are thrown into a world where the odds seem against them, but how could they NOT end up together?!

Plus, there's humor, drama, and more love-story goodness with Jane and Mr. Bingley. Plus, Elizabeth's family is going to keep you guessing as to what ridiculously embarrassing things they will do next.

If you are a reader and you haven't read PRIDE AND PREJUDICE, just do me a favor and put whatever book you're reading down, right now, and grab a copy of this book. Keep in mind that you can find it for free. Yup.